Community

The Junior League of Eau Claire is an organization of women committed to promoting voluntarism, developing the potential of women and improving communities through the effective action and leadership of trained volunteers. Its purpose is exclusively educational and charitable.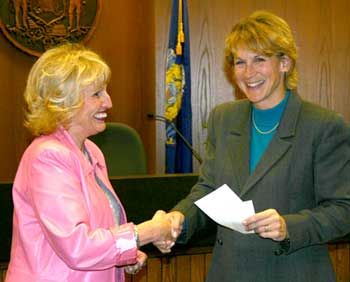 Pictured above: Marianne Klinkhammer, 2005 League President,
presenting check to Judge Stark for Teen Court program.


Fund Allocation to Community in 2007-2008
Community Table - $487
The Community Table, Inc., is focused on serving hot meals to those who need food and hospitality, and enlightening the public on the needs of our community. Meals are served 365 days a year by over 80 teams. Teams have the opportunity to
plan and serve a meal to our guests. Serving a meal provides teams a chance to give back to the community and make a difference in over 100 people's lives. Each day that meals are served, teams prepare, cook, and serve others.
Women's Giving Circle - $1000
The Women's Giving Circle is a collaborative effort, in which women contribute intellectual, social, and financial resources to support effective community programs. Together members are working to:
· Explore the needs of Eau Claire's women, children, youth, and families.
· Identify barriers to existing services that prevent families from achieving the hopes and aspirations they have for their children.
· Engage a diverse population in meaningful dialogue to identify strategies that will fill gaps in services and enhance the quality of life for families.
Dental Sealants Program - $1000
Eau Claire County statistics indicate that 15% of children are living in poverty. These children have very limited access to dental care. In partnership with Healthy Smiles for Wisconsin; Seal a Smile Initiative, the City-County Health Department and the Eau Claire Region Dental Hygienists' Association, Junior League of Eau Claire, and Sacred Heart Hospital, dental sealants are placed on qualifying second graders in Eau Claire County. The objectives of this program are to provide dental screening, place dental sealants, and educate parents and children about dental health to help prevent future disease.
Literacy Volunteers - $350
Literacy Volunteers - Chippewa Valley is an organization that was formed in 1986 with the goal to help adults achieve their personal goals through literacy. With the vision of training adult tutors to assist adult students, the organization began as Literacy Volunteers of America - Chippewa Valley and was affiliated and accredited with the national Literacy Volunteers of America.
Chippewa Valley Free Clinic - $1300 for volunteer center, $500 for patient care
Services at the Chippewa Valley Free Clinic are provided to anyone who is in need of medical care and who does not have access to other resources. Services are provided according to need, without discrimination based on race, religion, gender, sexual orientation or residency.
Before & After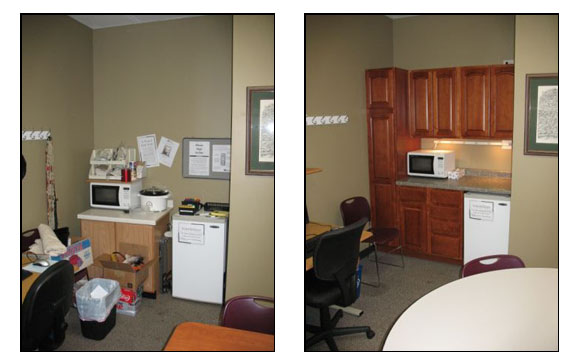 The Chippewa Valley Free Clinic, located on 421 Graham Ave., serves patients on a first come, first served basis on Tuesdays. On two Thursdays a month the clinic provides follow up appointments. The first prospective patients usually start showing up around noon even though the clinic doesn't start seeing patients until 6pm. If you drive down Graham Ave. on a Tuesday, you can see people waiting in line, no matter what the weather. The clinic serves anyone in need of care that doesn't have access to other resources. The income limit is 185% of the federal guidelines. They rely on volunteers to provide the services the patients need. The clinic is very thankful for their volunteers, many of whom come from another job to volunteer in the same capacity in which they work. To make the volunteer experience better, the clinic was in need of a volunteer center which would allow volunteers to have a dedicated space for their belongings and supplies. Last spring, the Junior League of Eau Claire membership voted to make this possible for the clinic. We also donated enough funds to provide health care for one patient for a year. Brent Hafele, the executive director for the clinic, was very grateful and shared that the volunteers greatly appreciated our donation. The pictures show what the clinic was able to do with the funds provided by League.
Another need of the clinic is providing meals for their volunteers. In this way, the volunteer experience is made easier since most of the volunteers begin showing up right at or before the dinner hour. Susan Jewett, Treasurer for the Junior League of Eau Claire, coordinates this for the clinic. Volunteers provide a meal for 12 individuals. No beverages or utensils are required– just the meal. Some people work together or purchase meals from restaurants. If you are interested in more information or in providing meals please contact Susan at JLEC@charter.net.
For more information on the clinic please visit their website at www.cvfreeclinic.org.