Join Us

Junior League of Eau Claire is looking for women interested in volunteering for a service organization supporting women and children at risk in the Eau Claire area.
If you know of someone who may be interested in joining Junior League please contact us.

Join us at our next General Membership Meeting
Our General Membership Meetings (GMM) are monthly meetings, usually held the fourth Tuesday of each month. After the board reports on League business, there is a break to enjoy refreshments and socialize with other members, followed by a short program. Please check the calendar for meeting days and locations.

New members can join in the fall as Provisionals. Provisionals are given mentors that guide them through the first year. After successfully completing the first year, provisionals become active members at the annual spring banquet.
For more information about joining Junior League of Eau Claire, please contact us.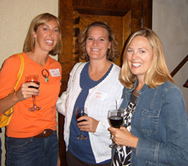 Prospective New Member Social 2007