Kids in the Kitchen
The goal of the Junior Leagues' Kids in the Kitchen initiative, which is supported by The Association of Junior Leagues International, Inc. and its member Leagues, is to empower youth to make healthy lifestyle choices and help reverse the growth of childhood obesity and its associated health issues.

This will be our Fifth year working with kids from The Boys and Girls Club. We are very grateful to the Boys and Girls club for opening up their facility to us and the opportunity to discuss healthy eating and physical activity. This year the classes will be held every Monday in the Month of March. If you would like more information on Kids In The Kitchen please email kidsinthekitchen@juniorleague-ec.org

Healthy Eating Recipe:

Chocolate Chip Banana bread

Makes 4 mini loaf's of bread, 1 dozen large muffins, or 48 mini muffins

1 Cup White flour
1 C Whole Wheat pastry flour (or stone ground wheat)
1 1/2 teaspoons Baking Soda
1/2 teaspoon Salt
1/2 Cup White Sugar
1/2 Cup water (use only 1/4 C if you only use white flour)
1 teaspoon Vanilla extract
4 over ripe mashed bananas
1 Cup Semi-Sweet Chocolate Chips
1 Cup Chopped Nuts (optional)

Pre heat oven to 350 degrees. In a medium size bowl, mix the flour, baking soda and salt together. In a large bowl, whisk the sugar and oil together, then add the mashed bananas. Stir in the water and vanilla and mix well. Add the flour and the chocolate chips and nut if using. Fill each large muffin tin half way, bake 20-30 min. Check doneness by inserting a toothpick in the center of the muffin and if it comes out clean it is done. Do not over bake, or they will be very dry.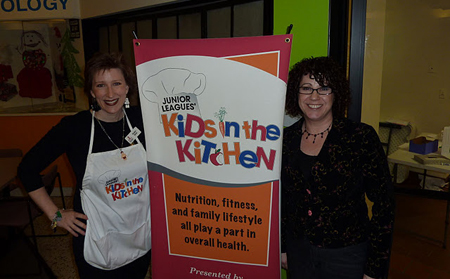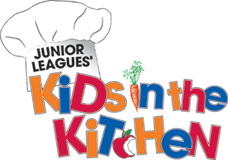 Official Site
Kids in the Kitchen
2012 Chairperson
Valerie Bestland

Photos from last year's
Kids in the Kitchen!